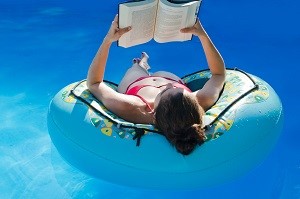 More and more libraries are becoming creative and pulling out all of the stops to try and bring new patrons through their doors. Many libraries are starting to offer ebooks, while others are completely digital and don't offer traditional paper books at all.
New York City is offering something a little different for a month when the Floating Library comes to the Hudson River from September 6 through October 3. The pop up library is aboard the historic Lilac Museum Steamship at Pier 25.
Artist, Beatrice Glow, who masterminded the library, said it took well over 70 people to make the dream a reality. The main deck is a reading lounge where visitors can enjoy a large collection of local authors, art books, and poetry. The collection of books will be donated to a local high school.
In August, Minnesota had its own Floating Library which was created by local artist, Sarah Peters. The library, located in the middle of Cedar Lake, was a handmade wooden structure that was 8 feet by 8 feet and contained about 80 books. Peters said the effort was very popular, she lent books to readers on kayaks, paddleboards and canoes.
In New York, residents are very excited about their own Floating Library. Glow has collected a total of 400 books from area donors. All books must stay on board and visitors are encouraged to bring a book to share. She believes people have wanted something like this for some time now, pointing to the idea that people want to escape the digital world and have meaningful encounters with people and texts relevant to their interests in real life.
Among the many features of the Floating Library, there will be a listening room that offers music by local artists. Throughout the month, they will host several roundtable discussions, as well as performances and workshops. The roundtable discussions will focus primarily on a do-it-yourself attitude and will target things like sustainability and community engagement. Workshops will include furniture building and classes on book making. Many of the rooms on the Floating Library will contain featured art from around the city.
While the floating library is unlike any other in many regards, it still has a few of the same rules as a traditional library. One of these is that the reading lounge is a quiet zone. There are assigned locations dedicated to quiet activities such as reading, writing, and listening to music. Mobile devices must be turned off while visitors are aboard the ship. This is so people can relax in a quiet atmosphere free of the distractions mobile devices create. There is a discussion room where visitors may talk amongst themselves.
Curious patrons can visit the Floating Library at Pier 25 in Hudson River Park. Its hours of operation are from 2 p.m. to 7 p.m. Public transportation will be making regular drops to Hudson River Park. The library is located on an open vessel; it is recommended that visitors wear cool, comfortable clothing and shoes. Visitors are also urged to wear protective covering such as hats and sunscreen while aboard.