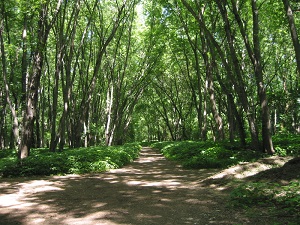 There have been plenty of stories in the past couple of years about the interesting ways in which libraries are trying to bring new utility to their communities.  This one might just top the list in its uniqueness, however:  The Chemung County Library District in Ney York state has started offering gardeners the opportunity to "check out" seeds from the libraries themselves.
The library district says that they hope to provide fresh and healthy food growing opportunities to their surrounding communities, and recognize that high quality seeds for healthy crops can be difficult to come across.  Gardeners of all skills levels are welcome, and the project is actually a continuation of one that started last summer at the Big Flats and Horseheads Free libraries.  Pam Lee, who heads the project at the Horseheads library, says that the idea was that growers could take seeds away and grow their crops, and then return with a portion of the seeds from their harvests later in the year.  In this way, much like a regular library book lending system, the number of items in the seed library could be maintained and kept self-sustaining.  Currently, patrons can take up to five packets of seeds with them at a time.
Just like with anything else at the library, however, you do need a library card to 'check out' any seeds.  In some ways, this may entice new community members to become library patrons and get their own cards.  Officials note that while they hope that patrons' plantings are successful, they "understand some plants are harder to seed than others."  With that in mind, the library asks that anyone who checks out seeds brings back any that they end up not using, whatever the reason.
The library also says that it wants to work hard to maintain the quality of the seeds.  When seeds are returned, relevant staff will work to verify the origin of returned seeds.  "Open-pollinated or heirloom seems," the rules state, "but no hybrids."
While the program saw only marginal usage last year, having seeds from the very start of the year – combined with greater awareness as time goes on – will probably bring about much larger engagement in the program this year.  In fact, as planting season approaches, some branches have already seen a rising rate in seeds being checked out.
Apparently, the range of seeds available is also quite large:  vegetables, squash, flowers, Swiss chard, beans, and more are ready for use by the community.  All in all, there are around 50 different species available.
Not confident in your own planting and gardening skills?  No problem!  Local experts on horticulture will be putting on workshops at various branches throughout the year, so even newbies can get growing in no time.  Both of the libraries currently offering the program plan to have their own workshops every month that will help establish the basics of planting a garden as well.  Some of the classes offered will also focus on certain topics, like growing in certain adverse conditions, or how those living in apartments or with other limited-space setups can get involved as well.