Amazon and one of the largest independent books publishers, IPG, are currently battling to the death over ebook pricing.  In a nutshell, Amazon wants ebook prices to be much lower.  IPG wants ebook prices to be just a little less than print books.
Both parties seem unwilling to budge.  Last week negotiations came to a halt and Amazon stopped selling all 4414 ebooks published by IPG over the pricing dispute.
The CEO of IPG, Curt Matthews, decided to draft a response titled "What Should an E-book Cost?".  Matthews provided specific details on IPG's royalty, cost, and pricing structure for both print books and ebooks.  This was his genuine effort to try to justify why ebooks should cost only a little less than print books.  We've put the results of his response into the chart below.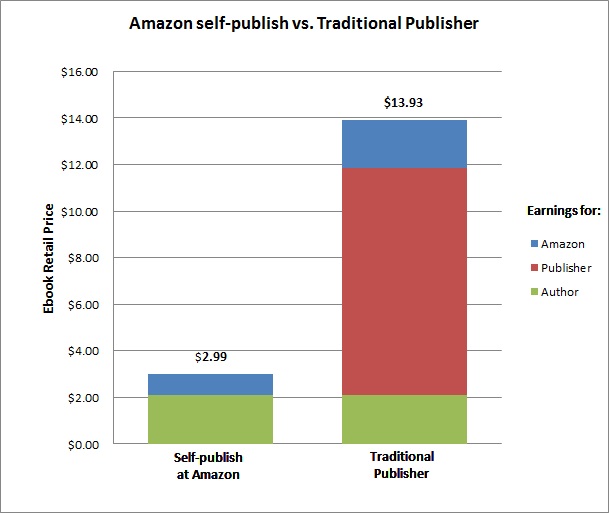 A brief glance at the chart above shows why Amazon and IPG are unable to come to terms on ebook pricing.  Amazon wants IPG to cease to exist.  They want authors to self-publish their ebooks at Amazon instead.
If an author self-publishes and prices their ebook at $2.99 at Amazon, they will earn $2.09 (70 percent).  To earn that same $2.09 going through a publisher, the author would have to price their ebook at $13.93!
That is so utterly inconceivable.  The publishers want to charge 365 percent more than Amazon wants to charge.  The author will get the same amount of money but the publisher will end up earning 50-70 percent of the total price.  It's ironic that you can spell PIG with the name of the publisher that's fighting to take home the vast majority of the profit from the sale of an ebook.  How can a publisher take home $7-$10 and pay the author $2 when Amazon is willing to take home $1 and pay the author $2?  It's amazing that anyone would choose to go through a traditional book publisher anymore.
Matthews claims that a lot that money goes to "the cost of editing, designing, page makeup, and proofreading" as well as the "office, and the warehouse, and the staff".  These services do cost money, but authors choosing to self-publish can now hire independent editors and book creation services at very low cost.  The services offered are often superior to those provided by the traditional book publishers too.  When was the last time you read a book without a bunch of grammar and spelling errors?
Matthews points out that the larger publishers earn 70 percent on their ebook deals and that his firm is small and only makes 50 percent.  He then states "Now Amazon is insisting on terms for both print books and e-books that are even less favorable for independent presses. How will such presses be able to afford to publish good books when they receive so little of the sales price? They won't be able to.".
And that's exactly the idea.  Amazon wants to put the book publishers out of business.  Ebooks will cost about 79 percent less if they are successful.  This is why public libaries and pretty much everyone else should be rooting for Amazon to win the ebook price war against the book publishers.