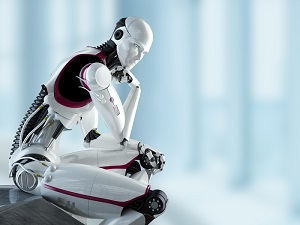 Libraries have, in recent years, made incredible strides in increasing the array of services and goods they offer to their patrons in an effort to keep up with the modern needs of the communities they serve.  Most of the time, this has meant the use of computers that have internet access, the rental of tablets and laptops, or even the ability to check out internet wifi hubs for home use.  It's all pretty neat, but it doesn't trump one upcoming offering recently announced by some public libraries in Idaho that is basically the stuff every young child's dreams are made of:  Robot building classes.
That's right, starting this summer, 16 libraries spanning over three districts will begin offering a program that allows patrons to come in and experiment with the building and basic programming of simple robots.  The announcement comes as a result of representatives from the Portneuf, Marshall, and Bear Lake library districts taking a recent trip to Boise to learn about robots themselves.  Librarians took their newfound knowledge back to their respective libraries, and have been working with the rest of their staff to help design upcoming classes and programs based around robot building this summer.
Each of the participating libraries is developing their own curriculum and will therefore start its offering at a time likely independent of the others.  So far, the earliest confirmed start for those eager to get their hands on some technology and start building is June 1st for the Marshall Public Library.  Its district has a history of pushing rich outreach programs that help to bring the library to other important community resources (such as community centers and schools).
Like many libraries across the country, the Marshall District has a Bookmobile – a library on wheels, so-to-speak – that they plan to retrofit into a robotics lab for the new outreach program.  The bus will then travel to schools and engage students.
While the librarians and those they work with may not be building NASA rovers just yet, many of the concepts remain the same, and they will be able to build more and more advanced robots as they spend more time with the components.  A number of sensors, motors, wires, wheels, and chassis components help to give would-be programmers options in building their bots.
When the librarians themselves attended the clinic in Boise last week, they were able to create robots that could navigate a maze independently using only their own sensors to detect barriers and change direction.
According to Jamie Blair, the outreach Coordinator for the Marshall system, the program also creates a great stepping stone for the library to venture into other tech-related pursuits.  According to Blair, the robots program will bring a wide array of technology to library patrons, who will be allowed relatively unrestricted experimentation with said parts.  Who knows what creations could come about?
Idaho residents should check with their local libraries to find out if their branches will be participating in this year's robotics launch.