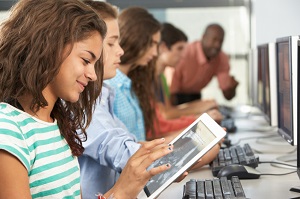 If you don't have a computer, you can't do your homework. That's the dilemma many kids are running into in Miami, Florida – and across the country these days. It's a big reason the South Dade Library computer laboratory has been crowded to capacity on most school nights.
Christina Morua is a mother of two young children who do not have the luxury of the internet in their home. Many of her shouldering assignments must be performed online and that means in some cases waiting over an hour to use one of the library's computers. Parents can no longer count on homework being done at home which makes libraries even more important for communities.
The South Dade Library is having problems of its own with poor funding, reduced hours, and dated equipment. Patricia Readon, a librarian at South Dade branch in Cutler Bay, said the laptops offered to patrons are not ideal. After 30 minutes of use, the batteries no longer work, making it quite difficult for kids to do their homework.
There has been a debate for years on how to best invest in the Miami-Dade libraries. Many are looking at ways to attract those that currently have no interest in libraries. Discussions revolve around creating workspace for entrepreneurs, adding popular coffee shops to each branch, and adding 3D printers.
For parents that lack internet access at home, it isn't much of a debate. They want libraries to invest in more computers for its labs. The library system has an additional $4 million it is able to spend this year because of an increase to a special property tax that helps fund the library system.
Even with the increased budget, the system remains strapped for cash because of labor costs, longer hours, and bigger budgets for educational products. The library system said it doesn't have the money to put into more computer labs.
Gia Arbogast, interim library director said there should be enough room in the budget to purchase new tablets in place of the old laptop computers. Arbogast added the system is trying to keep up with the current demand and this should help many families.
Sylvia Diaz, Assistant School Superintendent for Innovation of the Miami-Dade school system, said teachers are discouraged from assigning daily online homework if all students don't have internet access in the class.
There is no denying the position of Miami-Dade County schools when it comes to technology; all high school freshmen have been given tablets so they can start utilizing digital textbooks. Local elementary schools allow children to play a game called Reflex Math 24 hours a day. Reflex Math is an online learning program that resembles a video game.
Zach Leverenz, CEO of EveryoneOn, which provides subsidized online access for students, praised schools systems for moving to e-learning. He warned it must be at a pace that doesn't put low-income families at a disadvantage. He said it shouldn't be assumed that everyone has access to the internet or can make it to the library.
A library branch manager, Michele Stiles, said the system is working hard on providing more computers to each branch. In the meantime, if a student can't complete his or her homework at the library because of long wait times, librarians are handing out excuse slips that can be given to teachers.